New #Organic Products for #HumpDay - Butter Sticks!
Well hello there Somewhat Organic lovers!
Guess what? We've been busy little bees behind the scenes experimenting with and creating new products for YOU!
One of our newest inventions is what we like to call our Butter Stick.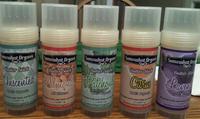 Now lest you think we are venturing into the foodie genre, we're not. Our Butter Stick is ONLY for use on your body, not your toast. (Yeah, we know it's a little corny but Stu insisted...so...)
Do you have specific areas of your skin that are always dry? What about your elbows in the winter and early spring?
Our Butter Stick is THE natural solution to these dry skin dilemmas. And...we can boldly and safely say that they are 100% organic with shea butter and our natural fragrances.
With the ease of the roll-on container and it's convenient size, you can throw this in your purse for an every day, take-with-you solution!
Better yet, get one for your overnight bag, one for your purse and another for your bathroom at home. You'll definitely want this product nearby as often as possible.
We're also adding some of our best-selling fragrances to the Butter Stick line-up.
Are you sensitive to fragrances? Try the Unscented.
Love a nuttier scent? Definitely get our Almond.
Are you into that earthy aroma? We've got it -- Patchouli!
Like a more vibrant, fruity scent? Citrus it is!
Would you rather be enveloped with the essence of Lavender? We've got that too!
For now, you'll have to come see, feel and experience it at one or both of our French Market appearances this coming weekend in Wheaton and Geneva, Illinois.
Check out our Facebook page for more info on times and locations: http://www.facebook.com/SomewhatOrganic
We can't WAIT to get this newest product in our online store! Be assured that we'll let you know when it's available.